Products
Pre My25, approximately 70% of people supported are moving away from a normal BMI. Post and ongoing My25, 70% of people supported are at or moving toward a normal BMI. No, we don't sell food and we're far from a run-of-the-mill menu company.
Watch our brief overview video and read what providers tell their constituents when launching My25.
My25 Choice, My25 Elevate Portal, My25 Flex and My25 Bullseye —created by our team of human services industry, preventive health, disease management, nutrition, culinary, business and technology professionals—are available separately or all together through a highly affordable monthly subscription to provider organizations, MCOs, ACOs, state DHS, and state provider association groups for their constituents in waiver, ICF, supported living, and home/foster-based settings.
Our products are all content based, delivered electronically via email, text, web and mobile. Everything we do is centered on Strategic Mealtime & Technology-Supported Mealtime.
Scroll down to learn more about extraordinary innovation you've never seen in the industry . . .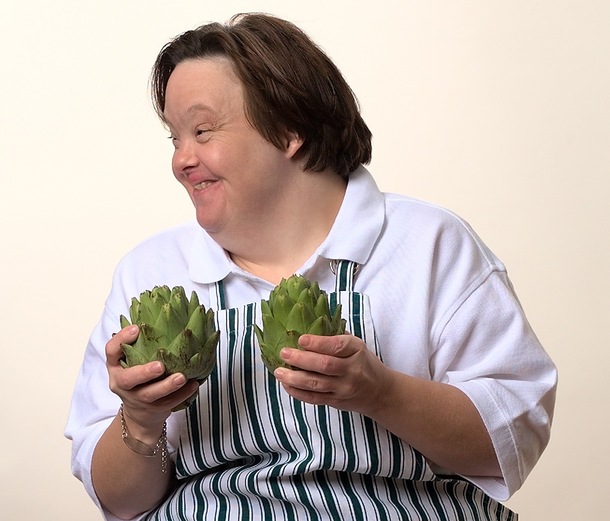 My25 Choice
For waiver and ICF settings. View a sample of weekly deliverables and watch our brief overview. Health improvement, person-centered choice elevation, and expense-reduction outcomes are substantial—quickly and sustainably—as a result of My25 Choice resources. Social determinants of health accelerate . . . with food, PRN, and labor cost savings more than covering the My25 Choice monthly subscription fee.
My25 Choice is a foolproof mealtime toolkit that streamlines menu planning, grocery shopping & recipe prep with supports customized for the individual (no matter how complicated, including for: diabetes, obesity, underweight status, dysphagia, lactose intolerance, GERD, allergies, ESRD, and more) and customized for routines of the individual setting (e.g. staffing patterns, pizza night every Thursday, eat out each Friday evening, personal staff/consumer recipes, etc.).
On a weekly basis, via email, each setting receives completely customized resources (menus, grocery shopping lists, recipe prep steps) that cycle new every 35 days to reflect the season; consumers' birthdays; evolving food likes/dislikes, dietary needs and health status; and grocery spend targets. We never charge for census changes or menu request changes—we're continually encouraging person-centered choice and suggesting tweaks as a result of our diligence regarding health status.
Then . . . My25's Support team (comprised of experienced human services industry professionals) proactively and routinely stays in touch with house managers on an ongoing basis. We're advising, providing inservices training webinars, suggesting/implementing menu changes, facilitating orientations, incorporating specific household/scheduling needs into the menus (such as crock pot recipes), and more. Through a number of proven pathways, we also facilitate consumer involvement in meal time and healthy eating. Routinely, we provide subscriber management with a progress report highlighting outcomes accomplishments and key nuances about each setting and people supported.
It's possible to execute mealtime in a foolproof way—no matter experience level, nutrition knowledge, amount of turnover, or busyness in the day. Consistency and accountability are the new norm. As are: healthy, tasty, filling, easy-to-prepare, and budget sensitive meals. Information required by outside surveyors and licensors for oversight purposes is automatically generated. And because we're always asked: Yes, we collaborate with subscribers' dietitians and nurses all the time.
Contact us to review My25 Choice resources upclose through a brief webinar—we'll suit your schedule and that of your colleagues. We'll also fill you in how you can pilot My25 Choice, with pricing and cost savings that will knock your budget-strapped socks off.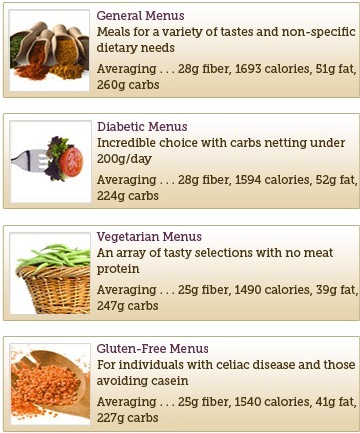 My25 Elevate Portal
Go to: my25elevate.com, so you can interact with our robust resource firsthand.
The My25 Elevate Portal—web-based and mobile optimized—delivers topical information tied to the calendar and dynamic engagement and education centered on preventive health, disease management, nutrition, kitchen skills, enjoyment of life, independent living skills development, socialization, and more
Scroll down to learn more about the "Most engaging & educational toolkit in the industry."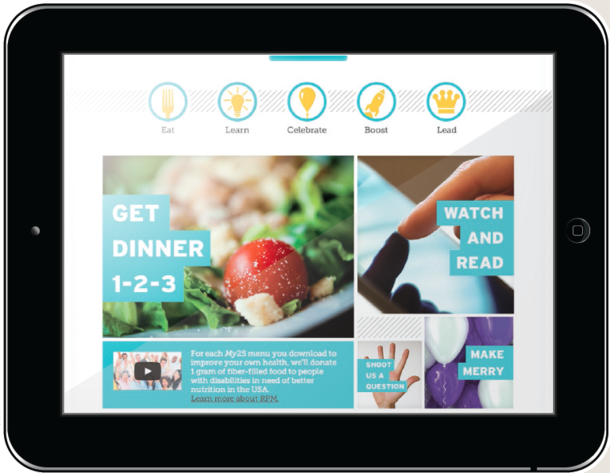 My25 Elevate's multi-media content, available on-demand in 81 languages and updated weekly, is a holistic cornerstone, galvanizing your entire constituency around proactive health habits. Additionally, case managers, day programs and residential services all access the Portal to scaffold their daily efforts. And if you want specific curricula created, the My25 team compiles the information and posts it within 7 days for your ongoing use.
We white label the Portal for organizations with their logo and colors, so our most proactive subscribers can solidify their brand and commitment to health leadership in bold technicolor to both internal and external stakeholders.
My25 Flex Newsletter & My25 Bullseye Text Messaging
Supporting people with disabilities—direct to individual—with tailored, targeted, health-forward and lifestyle-centric communications via email and text messaging. Experience a My25 Flex Newsletter sample here. Get all the Flex & Bullseye info here.
More Deliverables
Click to see More Deliverables to learn how we further support your efforts, including: onboarding, ongoing training and menu changes, outcomes measurement, and helping you leverage your improving health outcomes to improve your top line.
"My25 has delivered from a health and bottom-line standpoint, so we are very pleased."
~ Larry Weishaar, Vice President Customer Relations-Quality, ResCare, Inc.
Get Our Fact Sheet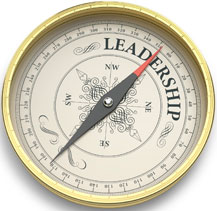 Get My25 training resources.
Go To Talk Turkey & BMI
What Does "My25" Stand For?
Go To More Deliverables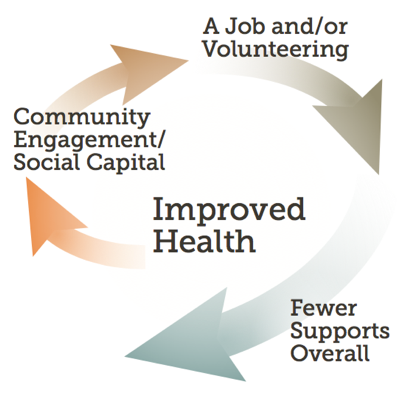 Better health is at the crux of reduced, overall supports.